I had a bad weekend as my climbing centre was closed and I only saw that after I travelled all the way to Zone 1. Annoyed I called M for some Oxford Street shopping/wandering, then we decided to eat something that can't be found in Ealing. So again we went for the Middle Eastern restaurant we went before, my favourate is their spicy pomegranate salad "Spicy Lebanese Salad?" (£5.50).
The fresh juices are another bonus, but they don't have what we wanted (Grapefruit?) so we had Orange Juisce (£3.00) and Pinapple Juice (£3.45) instead.
We ordered Makanek (£5.50) – Lebanese Small Sausages – along with our salad to share. It was bit crazy for this dish though, as it had too much balsmic vinegar to it so it tastes very strong, I kind of accepted that but after a few of them your tongue can't taste any other flavours. So I have to devour a big pile of unlimited breads (free) to balance that. The breads are not made in house but just as tasty as any other restaurant. Eat while it is hot!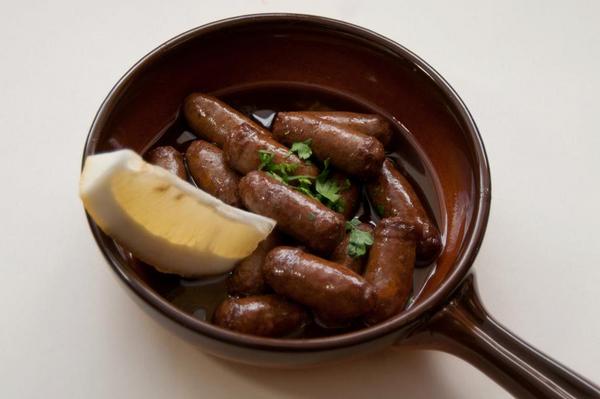 For the main I ordered "Bamieh Bilahem" (£10.75) – Okra Stew with Lamb? – it doesn't look nice and taste mild, but I was being adventerous to try okra for the first time. It is expectedly sticky finger kind of taste and I probably won't have this dish again, and not to mention it is not a typical Lebanese dish anyway. Could spend my money on some better dishes next time 😛
Total cost for the 2 of us: £28.20 without service charge.